Furwind
DevBlog Furwind. Selector Maps
---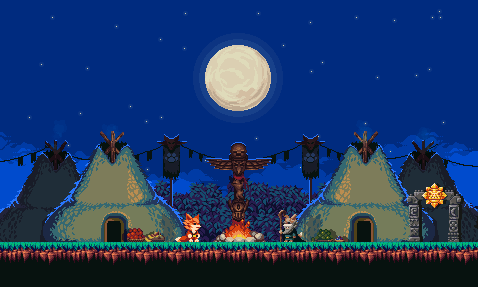 Hi everyone!
Since our last Devblog we have been focused in the development of maps/selector level. Today, we want to show you our work.
We hope you enjoy it!!
Before talking about the maps, we wanted to show that we have implemented a small transition between levels and moments. What do you think?
As you already know, the game is divided in 3 episodes with several levels in each one. Each episode is represented with a different map and you must complete each map to complete the game
Here you can listen the maps tracks

At the beginning of the game and each episode, you will only have unlocked the village of Furwind and the first level of Ruins, complete levels can unlock other levels until complete the map
You can always go back to a level after completing, to get more gems, complete achievements or just replay it
Finally, we want to show you how the village would look like, in which Furwind will have conversations with his mentor: Whiteclaw
See you in the next one! We hope you enjoy this devblog
Susbcribe to our mailing list to be informed about Boomfire and our games.
Follow our social networks to know more about Furwind and Boomfire Games: